I have been crazy busy the last couple months with the move, setting up the shop, the holidays, NAHBS, etc. etc. to really do one last post for the year, so here on January 2nd, I am doing a post about what transpired in the life of Don Walker and Don Walker Cycles. I hope you enjoy it!
As usual, January and February are crazy busy with show bikes. These two were my favorites from 2011 NAHBS!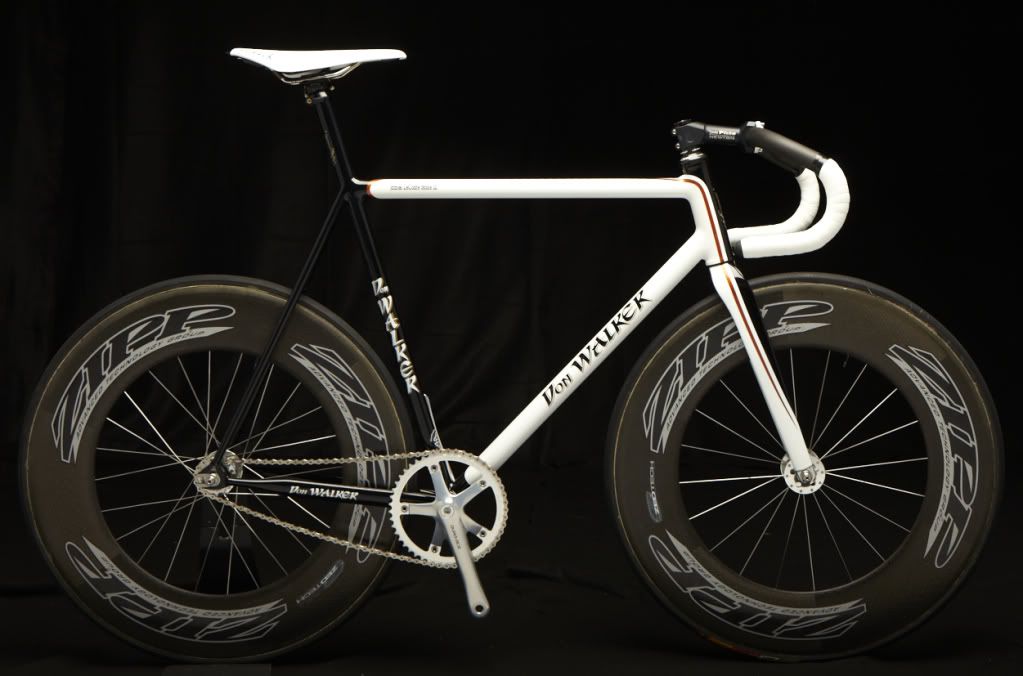 As a matter of fact, the blue NJS "tribute"
bike is for sale…  email me at don at donwalkercycles dot com if interested.
Racing season arrives and my close friend, 3 time Olympian (2 time Medalist) Erin Hartwell, comes out of retirement and picks up right where he left off a decade ago by winning the Madison at Masters Track Nationals!
I help out my favorite group of kids (Lindsey Wilson College) at Collegiate Track Nats. They ended up on the final spot of the Podium with some gutsy performances from David Novak and Madison Pitts.
Then, I sign my first Elite Cross racer in Seattle's Gian Dalle Angelini!
The Cross magic doesn't stop there, either!  Another new rider to the Don Walker Cycles/Rio Blanco Racing Team, Blaine Heppner crushes it in Cinci for the W in the 35+ Masters race!
JC Breslin delivers a fine performance on his new steed at Storm The Greens in Louisville. He was 4th in the Single Speed class but according to the announcer "First in Embrocation Application"…
A week later, we're getting some press at the Derby City GP when the Shamrock Crew grab the "inflatable" from our race trailer and take the "hand up" to a whole new level… However, I was doing Waffle Hand-Ups to those unfortunate souls having a bad day and that were off the back. Video of this hilarity here… http://www.cyclingdirt.org/coverage/240442-USGP-Derby-City-Cup-2011/video/517531-The-Best-Handup-Ever
I also closed the shop in Speedway and relocated to Buckner, Kentucky, a small town about 10 minutes outside of Louisville. We love it here and guess what? Its snowing today!
 Thats 2011 in a nutshell. For some reason, I think the 2012 "look back" will be even longer and with larger highlights, especially with the whole "calling myself out" on being a fatty. Weight loss updates as they happen!
See you soon!
DW